Piano Lessons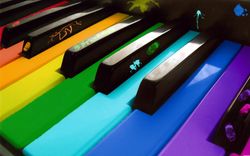 Vince is comfortable teaching all levels, from young children just starting piano lessons, to serious musicians wanting help with technique, composition or music software and technology.  As a professional, he knows how important the fundamentals are. He stresses good hand position and technique, rhythmic development, note recognition, and music theory.  As a composer, he gives insight into how music is put together, adding much more dimension and understanding than simply "reading the dots".  Most importantly, his enthusiasm instills an appreciation for music in his students that will last far beyond the lessons.
     He is patient and encouraging with beginners, both kids and adults.  He makes sure every concept is well understood before moving on.  He also understands different people have different learning styles, so he'll explain and demonstrate a concept in multiple ways until the student "gets it".
   He also offers jazz and pop approaches and as a composer himself, encourages creativity in all his students.  If you had lessons as a kid, and now want to get going with piano again, Vince can help you regain your former abilities and help you learn how to play the kind of music you really enjoy!
For Rates and Policies click here.