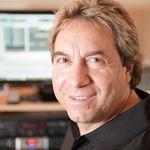 The music of composer/pianist Vince Madison is getting a thumbs up from reviewers and listeners alike.  His style, while similar in some respects to artists such as John Tesh or Yanni, is unique enough that we felt the need for a new term to describe it.  "New Age" was an overused term that was too confused with too many other things.  So beginning with the album DREAMLAND, we coined a new name to describe the current series of music.  Like the music, the name needed to indicate strength and hope, inspiration and heart, a sense of harmony and direction, and new beginnings…  so we chose:
 Music for the New Era
     These are piano and orchestral compositions with subtle jazz influences.  Vince's musical style is characterized by strong piano melodies that invite the imagination.  Whether backed by full orchestration, or only the resonance of an acoustic grand piano, his compositions are well structured to create a full and satisfying musical experience.
        While the overall style remains consistent, each song has its own  personality and flavor, making each of Vince Madison's CD collections interesting from beginning to end.  Each piece takes the listener on a journey, neither wandering pointlessly nor becoming too predictable.  The melodies are dynamic, emotional and endearing, with a perfect balance of imagination and inevitability.  The result is that the listener never tires of the music.  The most frequent feedback from our public has been "I listen to it all the time."
      With his newest release, Spice of Life , Vince has reinvented his sound.  The flowing piano style and compelling melodies are still there, but they are supported by an easy groove, bringing a new dimension to the smooth jazz format.  Spice of Life also features guest appearances by some very fine musicians on sax, trumpet, guitar and percussion.  Vince draws on the profound talent of these musicians to weave his most rich and varied musical journey yet!
"For fantasy's delight, Vince Madison's CDs are the best!"- The Rachael Blue Show KCLA 99.3FM Los Angeles
 "A winner from the first track to the last... Highly Recommended!" - Wind and Wire
 "A touching cinematic piano journey..." - Smooth Jazz.com