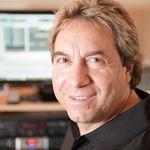 I'm Vince Madison, and I'd like to tell you about my ideas on the subject of music.  I make music for people who love music.  I believe that when people listen to music they truly love, they experience a feeling of fulfillment and joy that is in fact not duplicated in any other experience.  My mission is to create as many of those moments as possible for my listeners, thereby enriching their lives and touching their hearts and souls with some happiness and inspiration.
I don't believe that art forms should be obscure or hard to understand.  I strive to make my music enjoyable and emotional.  When someone comes to me (as often happens), telling me that my music really touched them emotionally or how they listen to my CD all the time, I consider it the highest praise.  As an artist I consider it my duty to bring the best I have to anyone I'm fortunate enough to have as an audience.  I thank you if you're already a member of that audience.  And if you're not yet, go ahead and sample some of the music on this web site. I hope you enjoy it, and thanks for taking the time to listen."
    -Vince Madison
Bio:
Vince began his career as a guitarist.  Then as a sophomore in college, he decided to master the piano, because it would be a better vehicle for his true passion, composing.  Graduating with honors from Denver University with a music composition degree, Vince traveled to New York, where he studied further under Julliard instructor Bertha Melnik, and then embraced the NYC studio scene, doing session work for labels such as Tommy Boy, Elektra and Polygram.  In contrast to Dreamland , his work at that point was for rap and R&B artists, playing keyboard parts and programming synthesizers for early artists like Grand Master Flash, whose  keyboard  tracks were heavily sampled by other artists.
Vince has added his talent to numerous recordings for other artists and written dozens of pop songs.  But with Dreamland , he decided to stop worrying about what was hip or the latest rage, and just write from the heart.  And in response, his CDs have already far surpassed any of his previous efforts in terms of sales.With his new record company, "Firefly Records" Vince decided to skip the traditional record company waiting game and take his music directly to the people.   In December 1998, when Dreamland was first released, he started playing the music live in upscale shopping malls.  The response was astounding.  People would stop dead in their tracks, listen, then get in line to buy a CD, sometimes with tears in their eyes!
The success of Dreamland enabled Vince to pursue his own original music as a full time career.  Since then, he's performed in over 20 states, and sold over 80,000 CDs of his original music.
Vince now teaches piano and guitar in Denver CO.  He has over 50 students he teaches privately.  In May 2013 he was elected President of the Denver Area Music Teachers Association (DAMTA).