Music Technology Lessons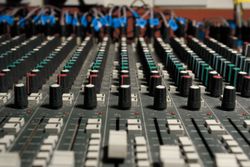 Got a keyboard that you just can't figure out how to use?  Or perhaps you bought some recording software, but don't use it because you just couldn't get it to work right.  Technology has given us the ability to make high quality recordings in the basement or living room, but it has also made the life of a musician much more complicated than simply learning how to play an instrument.    
    Vince Madison has been working with synthesizers and digital recording since those technologies were invented.  He brings a wealth of experience from his time as a studio musician in New York and the recording, arranging and producing of 7 albums of his own original music.  He not only understands what the knobs and buttons do, but how to take best advantage of them.    
   Vince will first sit down with you to find out what your goals are.  Most keyboards and software have hundreds of functions, most of which may be irrelevant to what you want to do.   Vince will identify your goals and then show you what you need to know to accomplish your desired end.  If there is musical expertise you have to acquire, Vince of course can help you with that as well.    
   Vince is patient and friendly, and doesn't make assumptions about what you may know.  He'll listen carefully to you to determine where you are at and where you want to go, and help you get there via the most direct route.    
    So don't let your keyboard or software sit unused for another day!  Call Vince today!
For Rates and Policies click here.